InfoTrack and Perfect Portal Integration
Manage your conveyancing transactions with ease from quote and instruction to onboarding with integration between InfoTrack and Perfect Portal.
Empower better lead management with InfoTrack and Perfect Portal
Make every client interaction exceptional from the start. From generating accurate and transparent quotes instantly to onboarding your clients digitally, Perfect Portal and InfoTrack integrate for a seamless digital journey. 
Access a truly integrated digital client onboarding journey with eCOS and keep your clients updated on milestones through your branded app. Set the tone of your transaction from the start with InfoTrack and Perfect Portal.
Why should you integrate InfoTrack and Perfect Portal?
Save time and reduce errors with pre-populated information. 
Generate accurate and fully branded quotes within seconds. 
Speed up your processes with multiple stored fee scales, including standard fees and searches, for you and your referrers. 
Easily add potential hazard searches identified via InfoTrack to your quotes. 
Access a single onboarding solution for an exceptional client experience from the start.
Eliminate the need for multiple usernames or passwords with a single login.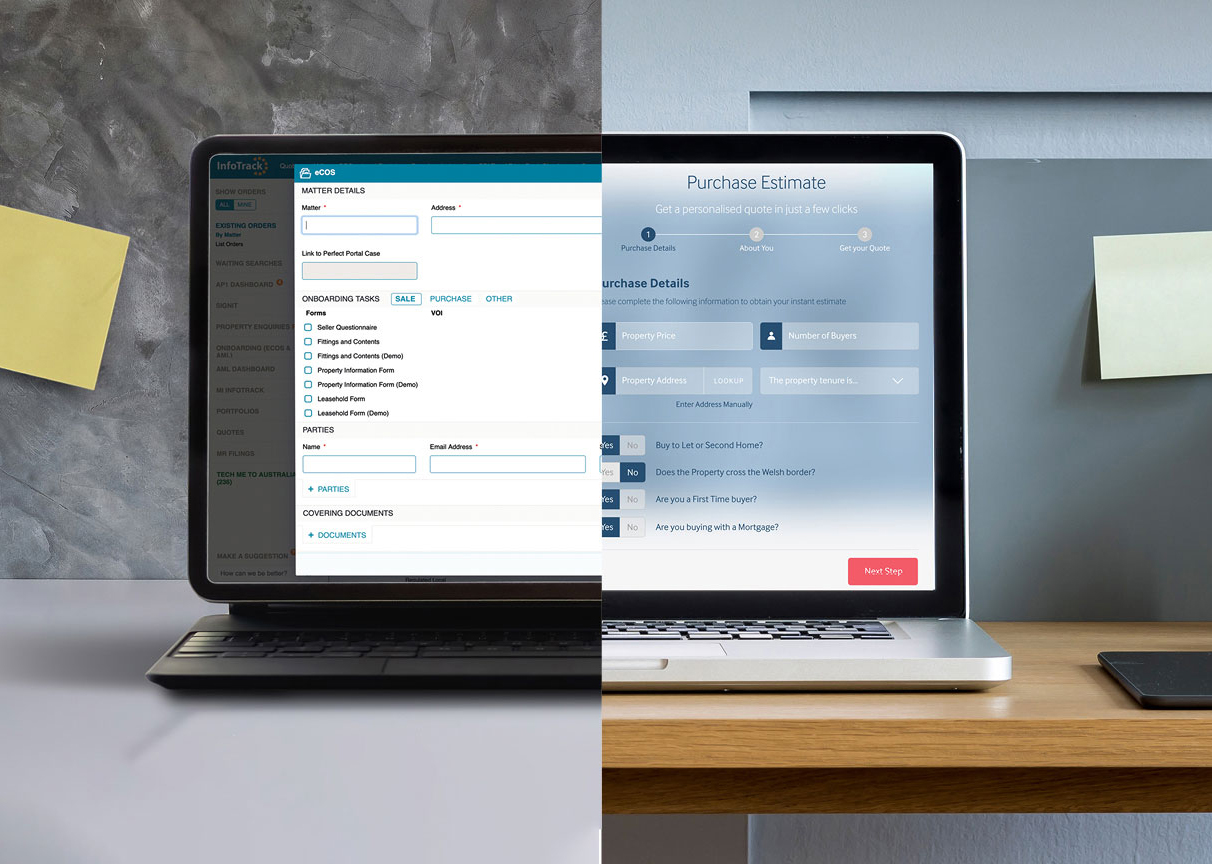 eCOS and Perfect Portal
Make onboarding easy with integration from Perfect Portal and eCOS. Access a single digital client onboarding solution for ID checks, source of funds verification, client care letters, TA forms, and more in one place. 
Ensure your clients can make payment within minutes of receiving a notification through a secure payment on-account service. Built into your branded client app, it saves you the hassle of chasing initial payment on account to help to speed up the onboarding process.  
Why clients love InfoTrack and Perfect Portal
"Together with Perfect Portal's business management system & InfoTrack's eCOS, our onboarding processes have improved dramatically. Being able to verify identity and funds in a matter of minutes, as well as offering our clients eSignature technology has allowed us to streamline proceedings, creating an ecosystem of software that works in tandem to provide a better electronic onboarding experience for our clients." 
"The integration between InfoTrack and Perfect Portal has been a game changer for us. Sending client care through our Lucas & Wyllys Perfect Portal App with eCOS is a breeze. A process that used to take an average of two weeks can now be completed within a couple of hours. Our clients enjoy the integration because the process is easy to follow. It saves them time with no copying, scanning, or trips to the office needed. I would not hesitate to recommend InfoTrack and Perfect Portal."